The root of Christianity, the land of baroque architecture, bricks and tales of an ancient past, adjectives fall short to describe Rome. It is poetry personified. But too bad that poetry doesn't buy tickets. What do you do when
Rome is famous for being a trap for the tourists, one of the most expensive tourist destinations all over the world. But is that the only reason hindering your travel? Is that the only reason that says you can't take a leisurely stroll along the Tiber without a worry in the world?
Read on to find out how you can get to Rome sans that hefty price tag.
First thing first, accommodation.
Hidden in all the quaint corners of the city are cheap hotels where you can easily put up. They are comfortable, warm and come with warm welcoming of the owners. Save the dreamy Airbnb apartments for another time because you will keep returning to this place. Till then, we have a number of cheap hotels for you.
Relais Guilia is one wonderful experience within budget. Located just 10 minutes away from the Vatican, very close to the Tiber, this hotel has rooms starting from 60 Euros a day. They also have a 24 hours free coffee and tea making counter. The staff of the hotel are warm and ever ready to provide you with information and advice on the how's, where's and why's of the city.
We have another cheap accommodation in our list: Viminale Hill Inn and Hotel. Situated in the Termini area of Rome, this hotel is a walking distance from all the major tourist and historic centres of Rome. The hotel houses a free bar and has rooms which offer breathtaking views of the city. The rent is 64 Euros per day which include the flight costs as well. Crazy cheap, isn't it?
Keep in mind that Rome asks for a tourist tax per day that depends on the hotel you are staying at. The hotel keepers would provide you with all the relevant information. Don't worry!
Then comes transport.
Rome offers a wide variety of transport being one of the most tourist-populated cities. If you have enough time, walk. Walk through the winding lanes from one part of the city to the other. But try and have the EU passport.
Most of the historic centres cost you nothing and are in walking distance. For the others like Palatine Hill, Colosseum and Roman Forum, the cost is half with an EU passport.
The best way to travel is via metro. Cost? As costly as chips and munchies. It's an Euro and a half. 😉
Places to visit and how much they cost. As said before, most tourist spots in Rome don't cost you. Let's give you a list of what costs what and what doesn't.
Trevi Fountain. Free.
Pantheon. Free.
Vatican City.
It's free. Nothing costs you to roam around the seat of Christianity. Housing over 900 churches, even for the not-so-religious ones, it's a place stuffed with meticulous architecture, world famous paintings and so on. It would only cost you if you enter the Dome. If you take the steps it's 6 Euros and 8 Euros if you take the lift. The steps are steep, mind you! Make sure you visit the dome however stretched your budget maybe! Look at Rome from high above, high high above! Fly for a moment or two….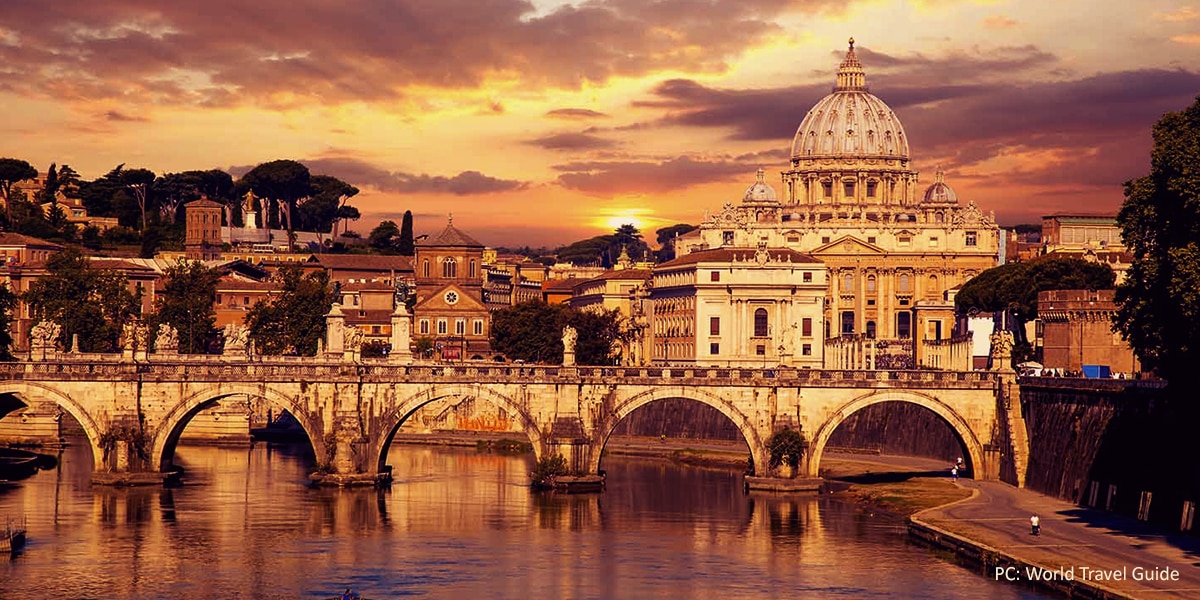 Spanish Steps: Free
Vatican Museums and Sistine Chapel:
Well, it's expensive. Thrice or quadruple times your metro fares. If you're a student it's 8 Euros while the full price is 16 Euros. Well, want to reduce this cost? Visit the museums and the chapel on the last Sunday of a month. That day it's FREE!
The thing about Rome is it calls explorers to reveal itself. Each person gets attracted to unusual corners, quaint roads which allure them and calls upon them. Yes, it's possible to cover this strange, historical land in a decent budget. We got you covered. The rest is thrift! Good luck! And if you are travelling from one country to another and stationed in Rome for some time, make the best use of the stopover programme.